Who we are
In 1916 a new engineering team had been assembled by scouting the top casting engineers from different cities in Japan by a wise businessman that lived in the city of Matsuzaka.
His name was Tomokich Anzai.
His business sense, which was sharpened beforehand through his career as a top salesman at a famous traditional clothing store in the city for many years, brought this newborn organization to great success by synchronizing the business with the growing Japanese economy.
Our century history started before WW2, and the product line, of course, has evolved with the needs of society and by government regulation during its long history. At one time, in our history, we were manufacturing lathe machines, and a result of this engineering was the production of a pipe threading machine, which is still one our products today. Hand tools have without question been our core business, as MCC was the first company in Japan to begin manufacturing pipe wrenches and bolt cutters since 1928, and then MCC expanded to common tools, such as cutting pliers, in the early stage of our history. As you can imagine from our current product line, cutting tools are our strong field.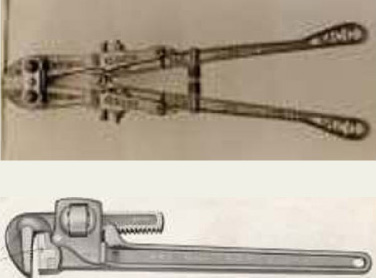 In the 1970s, MCC's 3rd President, Takeji Anzai, took the opportunity to largely invest in a new field, by expanding the core business to become a full service business. MCC expanded to provide product customer service as well as custom product manufacturing in the machining jig industry. MCC's 4th President, Shuich Anzai continued this legacy. Today MCC is known not only in the construction and plumbing industry, but also in the manufacturing and production industry, as well as being an industry leader with a great reputation in the manufacturing jig industry with a high quality, precision outcome, plus being a provider of professional design consultation services and exceptional product customer service.

Company History
1916
Anzai Foundry was established
1926
Anzai Foundry was renamed and incorporated to Matsuzaka Cast Steel & Co.
1928
Commenced manufacturing Bolt Cutter and Pipe Wrench
1931
Patented trademark, "MCC"
1952
"Matsuzaka Cast Steel & Co. was renamed to Matsuzaka Tekkousho Co. which became a public company
JIS(Japanese Industrial Standard) approval awarded MCC Pipe Wrench"
1957
Matsuzaka Shoji Co was established as a Sales company.
1958
JIS approval awarded Bolt Cutters
1965
Commenced manufacturing Pipe Threading Machine
1976
SUNJAC TOOL Co was established for export business
1979
MCC USA Inc. was established in Los Angles, California
1979
Patented PVC Pipe Cutter at USPTO as inventor
1985
Precision Dept was established in the machining center jig field
1986
Patented Foot Vises
Patented Multi Layer Wire Stripper
1990
Patented Threaded Rod Cutter
2000
MCC International Inc. from SUNJAC TOOL Co.
Current
Obtained ISO9001 Certificate
Company Profile
Corporate Office and Main Factory

1814 Takachayakomoricho, Tsu-city, Mie 514-0817, Japan
MCC Group Company
International Sales Office
MCC INTERNATIONAL INC.
Sanko Bldg. Room 507, 3-9, 1-Chome, Minamihonmachi, Chuo-Ku, Osaka, 541-0054, Japan
Phone:81-6-6264-0361Fax:81-6-6271-7798E-mail: info@mccinter.com
US sales office & warehouse
MCC USA INC.
3715 Market St STE109 Glendale, CA 91208 USA
Phone: 01-818-957-6332Fax: 01-818-249-1807E-mail: info@mccusainc.com
Website: www.mccusainc.com
Japanese Domestic Main Sales Office
MCC CORPORATION
3-46, 2-Chome, Honjyounishi, Higashi Osaka, 578-0965 Japan
Phone: 01181-6-6747-6921Fax: 01181-6-6747-6926
Subsidiaries in: Tokyo, Nagoya, Fukuoka, Hiroshima, Sendai, Sapporo and Kita Kanto
Casting Factory
MCC Casting Company
3 Noiri Asadacho, Matsusaka City, Mie Pref, 515-0027 Japan
Phone: 01181-598-51-5511Fax: 01181-598-51-3651
Satellite Factory
Matsuzaka Manufacturing Co.
3620-14 Chouraku Uegawacho, Matsusaka City, Mie Pref, 515-0041 Japan
Phone: 01181-598-28-4159Fax: 01181-598-28-2353